Great Northern Audio Theatre
does light-hearted and comic original stories.

Another of the best and most challenging things about theater is working with other people, other artists. Many times the whole of coming together over a project is worth more than the sum of the parts. Between the two of us we've worked as, and gotten paid to do, about every job in audio theater from directing to sound effects artist to script writing/adaption to consulting.

Over our careers we've run into about everything and every situation in audio theater. We love working in audio theater.
Drop us a line
. We might be able to help by coming to you or just giving some advice over email or the phone.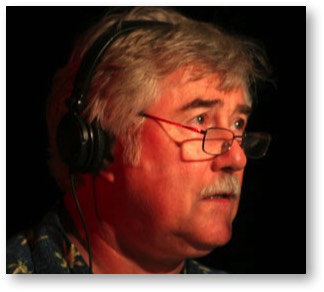 The Mark Time Radio Show

- 1996-2014. Live performance of original audio satire at the Convergence SF convention. Featuring guests of the Con, Firesign Theatre members, and barely controlled silliness.

The PrimeTime Players

- 2011-13. Sound effects and music artist with group of Seniors performing Old Time Radio recreations around the Twin Cities.

Training at

KFAI

Community Radio

in Minneapolis. Teaching other volunteers at the station the mechanics, techniques and rules of radio, and digital audio editing. 1988 - present.

AudioSeaStories.com

- audio editing, and performance of audiobooks with a sailing theme. 2004.

www.audioseastories.com

. A project of

Good Old Boat

sailing magazine.

Twin Cities Audio Theater Producers Conference

- October, 2004. Executive Director, with Brian Price and Kris Markman. Invited producers from around the country to come discuss the state of audio theater. Featuring David Ossman and Judith Walcutt of

Otherworld Media

as Keynote Speakers on "The State of the Niche." (See

SideTracks

page for audio.)

National Audio Theatre Festivals

annual workshop in West Plains, Missouri. Director of Sound Effects, 2001-2002.

Mark Time Award for Best SF Audio of the Year

, Winner 1999. Producer of "

407 Arachne

" for

SoundStories

:, a Twin Cities audio theater group. Script by Brian d'Eon, directed by Jennifer Arave. (See

SideTracks

page for audio.)

Twin Cities Audio Theater Workshop

, June 1997. Executive Director and creator of the workshop, which used local writers and performers to present original plays, broadcast live on two stations from the Rarig Center, University of Minnesota. (See

SideTracks

page for audio.)

Mark Time Awards for Best Science Fiction Audio Production

- coordinator of the International competition. Coupled with the

Ogle Awards

for Best Fantasy and Horror Audio Theater. Presented annually at

Convergence

, an internationally attended science fiction convention. 1997-2014.

Host,

Sound Affects: A Radio Playground

, a contemporary audio theater program broadcast weekly on Community radio

KFAI

, Minneapolis, MN. 1994-present.

Golden Reel Award for Best Radio Drama

, 1994 - awarded by the National Federation of Community Broadcaster's for

Solid State University

.

Star of Vengeance

, 1990. Produced the ten-episode serial for the Shockwave radio show. Written by Andre Guirard. Download available on our

SideTracks

page.

Midwest Radio Theater Workshop, 1988

. "

Vince Washburn - New Age Detective

" - wrote the contest winning script produced at MRTW, Columbia, MO. Directed by Skip Pizzi.

Shockwave

, Producer, 1979-1993, with

Dave Romm

and

Brian Westley

, on

KFAI

Community radio, Minneapolis, MN. Science Fiction radio, with discussions, recent science, SF music, and original sketches performed live or recorded at the Shockwave Show at Minicons, 1980-1996. See the

SideTracks

page for audio examples.
The Mark Time Radio Show

–-every year from 1996 to 2014 Jerry and I have celebrated science fiction audio by making fun of it.

AudioSeaStories.com

–- digitally edited and produced a number of their audiobook titles since 2006.

www.audioseastories.com

Dog Ear Publishing

– created an audio imprint for this fast growing self-publishing website. Since 2011.

National Audio Theatre Festivals

– guest director for

TransMarsTango

by Elaine Lee, and workshop presenter at 5-day Festival, West Plains, MO, June 2011.

Native Voices At the Autry/Alaska Native Heritage Center

– audio producer/editor for

Raven's Radio Hour

, recorded Anchorage, Alaska, August 2009. Distributed through Native American Telecommunications.

http://nativevoices.blogspot.com/

The Grist Mill Horror Stories

– adapted and directed six horror stories for producer, Scott Hickey, in Lowell, MA from 2003 to 2008. Distributed by

www.amfmtheater.com

The Brookings Arts Council

– President and member of board of directors, Brookings, SD, 2000-2008.

The Dakota Reader

(a series of poetry, music and audio theater performances)—producer with the South Dakota Art Museum, funded by the National Endowment for the Arts, 2001-2003. (See

SideTracks

page for audio.)

National Audio Theatre Festivals

– founding board member, director and trainer, Columbia, MO, 1997-2003. Director,

Appointed Rounds

by Matthew Cowley, performed live West Plains, MO, June 2002.

Twin Cities Audio Theater Workshop

– director, live plays performed in Minneapolis, MN, 1997.

Midwest Radio Theatre Workshop

– director,

Uncle Ant

by Darren Callahan, performed live Columbia, MO, October 1996.

The Iowa Radio Project

– wrote/directed numerous short comic works, Dan Coffey, producer, Iowa City, IA, 1991-1994.

Midwest Radio Theatre Workshop

– wrote original audio-play "

The Reign of Doug

", directed by Skip Pizzi performed live, Columbia, MO, October 1992.

Midwest Radio Theater Workshop

- Producer of

Technical Assistance (TAP) Series

. Six one-hour "how-to" educational cassettes on contemporary radio theater. Diane Huneke, Executive Producer, 1989-1991.

University Relations, University of Missouri/Columbia – audio engineer, audio editor for Board of Visitors and Ag Extension projects, Columbia, MO, 1997-1991.

Songwriters Association of Washington

– first place in songwriting with Mike Wheaton for

Never Had A Home

, rock category, Washington, DC, 1987.

Narrowed Horizons/Without A Net

– wrote/directed/acted in live and recorded radio comedy with Delton T. Horn, KOPN-FM Community Radio, Columbia, MO, 1985-1987.

The Daily Feed

– wrote 90-second political radio monologues. Producer, John Dryden, Washington, DC, 1982-1985.