What if computers ran colleges and nobody came to class? This 1993 mockumentry was so far ahead of its time, it's already happened. The droll documentary style would make Christopher Guest proud.

Featuring the voice of Dan ("Ask Dr. Science") Coffey, and Dave Moore (WCCO TV).

Winner of the
Golden Reel Award
for Best Radio Drama
of 1993,
from the
NFCB
,
National Federation of Community Broadcasters

Available at Blackstone Audio's
Downpour
site, and in the
Great Northern Audio Theatre Collection
.
Long after this program was finished, Phil Proctor told me he had used the name Solid State University in 1973 in one of the Firesign Theatre books of plays. I looked it up, and he's right. The name was also used in
J-Men Forever
,
the Proctor and Bergman film (1979), and in subsequent works. And here I actually thought I adapted it from DavE Romm's invention of the Solid State Fair, which we attended on the SHOCKWAVE radio show somewhere in the 80's. Go figure. -- Jerry.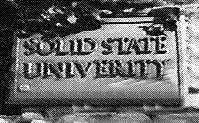 (Picture from the movie, J-Men Forever, by Proctor and Bergman.)
Dan Coffey as the virtual president and VPs
Dave Moore as the professor
Jerry Stearns as the reporter
Sarah Eschweiler
Charlie Meitzner
Brian Anderson
Kara Dalkey
Mark Wheat
Engineering and SSU Marching Theme by Chris O'Dowd
Artwork by Greg Mathieson.
Written and Produced by Jerry Stearns
with additional dialogue by Todd Brun.
© 1993 by Jerry Stearns.
Thanks to Film in the Cities and KFAI Community Radio.
A Great Northern Audio Double Header
Also on the CD:

Tumbleweed Roundup

(31:00)

Tumbleweed Roundup Theme Song

- lyrics by Brian Price, music by Mike Wheaton (3:57)
SSU - Departmental Organization Chart

Solid State University

Scientific and Natural Administration For Universities

Dept. of Admissions and Denials
Dept. of Grants and Gratuities
Dept. of Matriculation
Dept. of Obstructions
Dept. of Departments


School of Civil and Liberal Arts and Politics

Dept. of Media, Culture, History and Mythos
Dept. of Religion, Politics, Entertainment and Statistics
Dept. of Reality Constructs
Dept. of None of the Above


School of Deep Science

Institute of Fuzzy Sciences

Dept. of Slightly Fuzzy Sciences
Dept. of Moderately Fuzzy Sciences
Dept. of Extremely Fuzzy Sciences
Dept. of Paradox, Chaos and Synchronicity


Clarke Institute of Technology and Magic

Dept. of Virtual Reality and Simulations
Dept. of Ancient Wisdoms
Dept. of Medicinal Purposes
Museum of Stupid Technology


Dept. of Other