Great Northern Audio Productions
Attracted to silly characters, fun language and convoluted plots
The Great Northern Audio Theatre
has been around since 1995 when Jerry Stearns and Brian Price combined their various audio theater skills to write and produce
Tumbleweed Roundup
. We call what we produce contemporary audio theater. It used to be called radio drama, but it's not on the radio as much as it once was. The big contracts and the huge grants have disappeared, if they ever were. But the Internet and audiobooks have arisen. There are lots of places to tell a good story in sound. It's a medium that is full of visuals, full of Imagination, and full of fun. We aren't going to rekindle Old Time Radio. We're going to build and add on it with new stories, new technology, and a sense of audio adventure.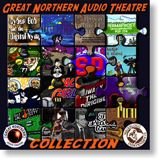 Most of our Great Northern Audio Theatre productions have been featured in someone's podcast at some time or other, so it's not like they aren't out there to listen to. Most of them are featured in the
Moonlight Audio Theatre
podcast. Specific stories and a Boxed Set of downloads or CDs are available from
Blackstone Audio
's
Downpour
website. (See below for a track listing for those CDs.) You can also download individual stories from
Audiobooks.com
. All CDs are available in the Twin Cities at
Uncle Hugo's Science Fiction Bookstore
, including the most recent Mark Time Radio Shows (2009-2014), which aren't available on CD
anywhere
else.
Also take a look at our
Side Tracks
page, which has several works we've done individually or together over the years, and are available for listening here.
Here are our major projects, with the most recent first:

Great Northern Audio Collection
Show and track listing for Blackstone Audio's CDs
CD1
Cyber Bob and the Digital Nymph, Tracks 1-12
Cyber Bob and the Silicon Kid, Tracks 13-21
CD2
SpaceGirl, Tracks 1-12
Thwack That Dirigible, Tracks 13-23
CD3
Villains On Parade, Tracks 1-10
Jokes In Space, Tracks 11-22
CD4
The Learning Curve, Tracks 1-11
Jewels of the 11th Generation, Tracks 12-20
CD5
Dialogue With Martian Trombone, Tracks 1-11
PeterGalaxy, Tracks 11-20
CD6
The Velveteen Submission, Tracks 1-9
3 Wizard Tales, Tracks 10-24
CD7
SuperPal, Tracks 1-10
Drummers Dome, Tracks 10-18
CD8
Tumbleweed Roundup, Tracks 1-11
Solid State University, Tracks 12-20
CD9
Permafrost, MN, Tracks 1-13
CD10
Joe Bev Interviews Price and Stearns, Tracks 1-19