Peter Galaxy - Interstellar Envoy
They used to be big stars on the radio - Peter Galaxy and his sidekick, Dr. Simon. Now they're just two retired actors playing cards on the front porch and riding herd on the grandchildren. But can these two old-timers find work for 300 billion illegal aliens? Yeah, we wondered about that question, too.

We've always wondered what would happen if two of our favorite worlds were to collide. When Star Wars veteran and Dr. Who alumni, the late
Michael Sheard
, joined David Ossman of the Firesign Theatre (and the voice of Mark Time himself) on stage--we found out. The Universe Got Funnier. That's valuable information.


Performed live at Convergence 2003.

Available at Blackstone Audio's
Downpour
site, and in the
Great Northern Audio Theatre Collection
.
---
"I'd never been able to see the Mark Time (Radio) show before, and I was duly impressed. It was professional to the nines, the vignettes were wonderfully funny, and it was just all-around cool. It was fun to watch Michael Sheard perform, but I think my favorite parts were covered by Tim and Windy. They had been placed in juicy little character parts, including two television-obsessed aliens. It was loads of fun to watch."
Melissa Kaercher - Cthulu Coffee
David Ossman as Tom Clark/Peter Galaxy
Michael Sheard as Steven St. Stephen/Dr. Simon
Preston Ossman as Mikey
Irene Ruderman as Stephanie
Tim Wick as You/Alien
Windy Merrill as Me/Pirate Queen
Richard Fish as Announcer/MC
Music by Mike Wheaton
Sound Effects by Jerry Stearns
Post Production by Jerry Stearns and Brian Price
Artwork by Ken Fletcher
Written by Brian Price and Jerry Stearns
Directed by Brian Price
Produced by Jerry Stearns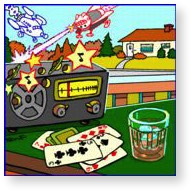 A Great Northern Audio Double Header
Also on the CD: