Great Northern Audio Collection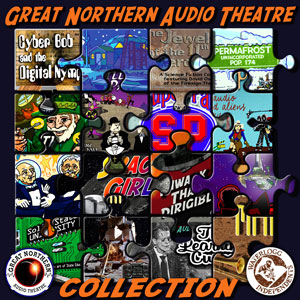 We joined up with
Blackstone Audio
to release most of our works in one big Boxed Set to make it easier to pick up all at once. Here are 18 stories, including the live
Mark Time Radio Shows
, and our studio productions. And then there's one CD with an interview Brian and Jerry did with Joe Bevilacqua, of Watterlogg Peroductions. It's 10 hours of satiric science fiction and fantasy audio, suitable for all ages.

Individual stories are available through Blackstone Audio as digital downloads for purchase or for rent at their
Downpour
source.
The Boxed Set
may be purchased as digital download, or as Audio Compact Discs or MP3 disc.
I've had many happy opportunities to be my Old Time Radio Hero, George Tirebiter, in his own comedic identities as a Vice Presidential candidate or self-styled private eye, for example.

Fewer chances have come George's (or my) way to perform as a radio character actor, like those great voices still murmuring their lines back in my memory tubes.

The best of these acting chances, thanks to the partnership of Jerry Stearns and Brian Price, were the annual performances given as part of the
Mark Time Awards
. They gave me the chance to work live on stage before an increasingly expectant audience, and with an extraordinary team of talents that met only once a year to bring the show on home.


The Great Northern Audio Theatre Collection
preserves 18 audio comedies in one Box, including a dozen featuring Phil Proctor and Melinda Peterson, yours truly and many talented guests. Hours of wonderfully written science-fiction fun, performed live, just like the old days. Tune in!

––
David Ossman
Track listing for the CDs.
Blackstone
publishes mostly audiobooks, so they have broken up all our half-hour stories into 3-4 minute tracks, to make it easier to get back to where you stopped before. Below is a listing of what tracks comprise which tales on which discs.
Note
: Some stories conclude in the middle of a track and the next story begins with no break.

For more information on each story, there's a page for most of them to the left. Some are listed together on their own pages the way they were originally released on disc. (e.g.: for
High Moon
see
Dialogue with Martian Trombone
.)
DISC 1
Cyber Bob and the Digital Nymph
: Tracks 1-12

Cyber Bob and the Silicon Kid
: Tracks 13-21
DISC 2
Space Girl
: Tracks 1-12

Thwack That Dirigible
: Tracks 13-23
DISC 3
Villains on Parade
: Tracks 1-10

Jokes In Space
: Tracks 11-22
DISC 4
The Learning Curve

or
The Rise of Francis
: Tracks 1-11

The Jewels of the 11th Generation
: Tracks 12-20
DISC 5
Dialogue with Martian Trombone
: Tracks 1-11.6

Peter Galaxy - Interstellar Envoy
: Tracks 11.7-20
DISC 6
The Velveteen Submission
or
The Lighthouse at the End of the Tunnel
: Tracks 1-9

3 Wizard Tales
: Tracks 10-24
(includes
High Moon
, T
ell Them NAPA Sent You
, and
Wizard Jack
.)
DISC 7
SuperPal - The Saving of the World
: Tracks 1 -10.2

Drummer's Dome
: Tracks 10.3-18
DISC 8
Tumbleweed Roundup
: Tracks 1-11

Solid State University
: Tracks 12-20
DISC 9
Permafrost, MN
: Tracks 1-13
DISC 10
Joe Bev interviews Jerry Stearns and Brian Price.