Cyber Bob and the Digital Nymph
The Last Mark Time Radio Show 2014

38:11

David Ossman of the Firesign Theatre returns one last time to the live raucous stage to play Cyber Bob, who leaves his position as cart-wrangler at the Mart to lead a digital expedition into the digital glade in search of the beautiful yet elusive Digital Nymph. There's a history between the two, and they are not playing...well, they are playing games...and when the Nymph asks, "Do you want to take the leap?" There's only one answer for an old campaigner like Cyber Bob.

8:46


"What would be the first thing you'd make with a 3D printer?" A 1958 Ford Edsel, of course. But there are certainly other things to make to enhance our lives in 3D.


Both pieces recorded live before a very appreciative geeky audience at
Convergence
2014, Bloomington, MN.
---
We really love these guys. And this really is, "The Very Last Mark Time Radio Show." Alas, there will be no more. Or so they say anyway.
Meatball Fulton ZBS
Windy Bowlsby
Richard Fish
Kelvin Hatle
Dawn Krosnowski
David Ossman
Chase Peterson
Megan Petersen
Tim Wick
Live Sound Effects by Tony Brewer and Brian Westley

Music by Eleanor Price

Sound by Jerry Stearns and Kris Markman

Directed by Brian Price

Written by Brian Price and Jerry Stearns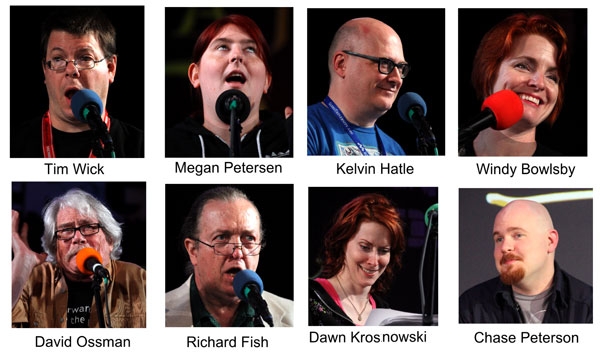 Live Sound Effects by Brian Westley & Tony Brewer
ASL Interpretation by Becca, Rosalinda & Jill

The Perpetrators: Brian Price, Jerry Stearns, Dr. Kris Markman
The Hackers' Credo.
There will be total access: Hands on.

There will be no authority, no bosses: Hands off.

Strive to make cyberspace a better place: Lend a hand.

Do no evil: Hands to yourself.

And always, always find the elegant solution. Never use two punch cards where one will do. Never write ten lines of code when two will do.