The Old Cart Wrangler's Saga
A full-blown, full length, fully baked comic monologue
Written & Directed by Brian Price
Performed by David Ossman
We've all seen that lone shopping cart sitting on the edge of a parking lot. Who goes and gets it and brings it home? The cart wrangler, of course.

Brimming with easy humor, fantasy, and wisdom, David Ossman—of Firesign Theatre fame—gives the performance of a lifetime in this theatrical full-length monologue backed by a crack Kansas City jazz trio and recorded before a live audience at
The Brick
in downtown Kansas City, Missouri, on June 6, 2018.

Mixing voice, eclectic jazz, and sound effects, this performance breaks sound-art boundaries and may even break your heart.
Takes a lot to impress me, but you did it. I can't think of anyone better than David Ossman to perform this piece. … It is really really good. Like perfect. And in front of a live audience. Oh yeah, and Dwight's backing was so nice to hear, very fine indeed. … I have to admit, it's rare I listen to a piece all the way to the end, but you nailed me in the first minute … maybe seconds.
Tom Lopez, ZBS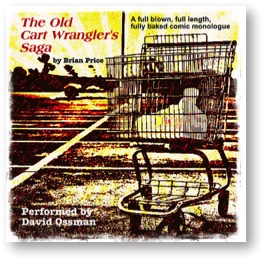 • Track 1
: In three parts: (45:53)

Cart 437 or The Long Way Around
Cart 437 2.0
Cart 437 3.0 Potemkin
• Track 2
: Interview with David Ossman and Brian Price. (29:00)
Performed live at
The Brick
, Kansas City, MO.
June 6, 2018, 9:00 PM.


THE BAND:

Rev. Dwight Frizzell, woodwinds
Julia Thro, guitar
Patrick Alonzo Smith Conway, percussion


SOUND EFFECTS:
Tony Brewer

SOUND ENGINEER:
Mike Teeler

PRODUCED BY:
Judith Walcott & Jerry Stearns

CD COVER DESIGN:
Jerry Stearns
A production of Great Northern Audio Theatre and Otherworld Media
CD Back cover. Photo by Phil Proctor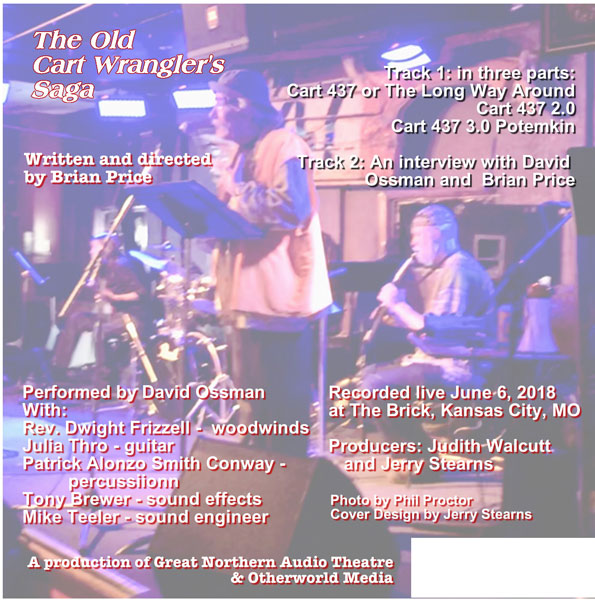 Original event poster. Design by Jerry Stearns.