PERMAFROST, MN,
an audio serial is thirteen three-minute episodes
in the life of the people who live and work in the town. Together they tell you one important event in the history of the town, and each episode tells a little part of this tale with a short story of its own.

A VERY Minnesota program, with likable characters, humorous situations and events. Richly produced with original music and sound effects. Written, produced and performed by Minnesotans.


Available at Blackstone Audio's
Downpour
site, and in the
Great Northern Audio Theatre Collection
.
---
'Permafrost' achieves that rarest of comedies, whimsey. Think of 'Lake Woebegone' scripted by Lewis Carroll. It is also the home of the gentlest collection of eccentrics this side of 'Northern Exposure'.
Tom Fuller, Atlanta Radio Theater Company
PERMAFROST, MN is an unincorporated (and entirely concocted) town on the logging road, off the gravel road, off the county road from Big Falls, in Koochiching County, Minnesota, on Dinner Creek. It went into the unusually hard winter of 1887-88, and never came out. Oh, it isn't frozen in time, it's just frozen.

There is what is called a "micro-climate" around Permafrost. About two square miles around the town and a lake are below freezing all year round. It doesn't get bitter cold even in winter, or warm even in summer. Just freezing, all the time. It's no wonder Permafrost is the ice fishingest place around.
See a recent article by Richard Chin for the
Minneapolis StarTribune
about the many kinds of
Audio Theater in Minnesota
. It includes a reference to this piece, so we thought we'd make it available.
Permafrost, MN
. (39 minutes.)
Irene Ruderman - Finch Shelmerdine
Donna Alexander - Phyllis Shelmerdine
Don Cosgrove - Elsworth Shelmerdine and Bux Hootkins
Rebecca Fay - Melody McCleod, Bertie Two Shoes and Senator Gloria Lunowsky
David Hennessey - Les Decksia and Big Jack Tar Mack
Dean Johnson - Petey Pie
Carolyn Press - Edna Johnsen-Johnson and Regreta Seeger
Mark Sulander - Bob Draft
Jerry Stearns - Hardy Laughton
Original Theme Music by Mike Wheaton.
Radio music by Darren Callahan.
Artwork by Ken Fletcher.
Package Design by Jerry Stearns.
Slideshow by Brian Price.
Written by Brian Price and Jerry Stearns.
Directed by Brian Price.
Produced by Jerry Stearns.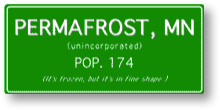 Nominated for Audio World's GOLDEN HEADSET Award for Best Multicast Spoken Word Production of the Year 1999.
You'll meet Finch Shelmerdine, who tells the story, and her parents, Phyl and Elsie, who run the Frozen Filet Cafe. Finch has just started college way down in St. Paul.

You'll hear from Bux Hootkins, who lives in Permafrost, but has a place in Texas that he visits in the summer, because he likes the extremes. He and Bertie Two Shoes have been building on their fishing shack out on the lake for as long as anyone can remember. Currently they're working on the catwalk, up there on the third floor. It's for the cats.

Petey Pie is a musician and has a little FM radio transmitter in his trailer home. He is both entertainment and communications for Permafrost.

There's Bob Draft, unofficial town mayor and chief booster of the lake petition. And you'll find Melody McCleod, Permafrost's mail carrier and town gossip. (In a town this small there isn't always enough to gossip about, so sometimes she just makes it up.)


Then there is Les Decksia, town historian, who claims he remembers the "year the giant snowflakes fell" and the threat of a thaw back in '69.


Edna Johnsen-Johnson lives in a house straddling the Permafrost micro-climate. Her kitchen's in winter, and her bedroom is in summer.

And they are all a little nuts to live in a remote and frozen place like Permafrost, MN.