Drummer Crowley is finally able to build the house he always dreamed of, a geodesic dome in the woods. That's because they finally released on CD the three albums his band, Bent Sunshine, made back in the Sixties. So he's enlisted his son and daughter-in-law to help, and hired a carpenter. But now they are finding that the inside of the dome seems to somewhere else, Drummer is feeling better than he has in years, and that carpenter, well, she's starting to look awfully cute.


Available at Blackstone Audio's
Downpour
site, and in the
Great Northern Audio Theatre Collection
.
---
"Absolutely first rate. I'm envious - a great original idea. The kind of original Sci-Fi stuff I've come to expect from Price/Stearns."
Roger Gregg - Crazy Dog Audio Theatre, Ireland
A Great Northern Audio Double Header
Also on the CD:

The Velveteen Submission

, or The Lighthouse at the End of the Tunnel

(29:04)

The Clones' Day Parade

- by Brian Price, performed by David Ossman, music by Mike Wheaton (9:03)
Tour T-shirt, 1969
Taken from the cover of their double album, "
Excess Is Not Enough
", on
Northern Rails Records
. A double album with three sides produced in the studio, and the fourth side a live performance cut. Released in February 1969.

Excess Is Not Enough
Bent in the Wind
Far From Fargo
Return of the Implements
Endeavor To Keep On Truckin'
Counting on the Count of Monte Cristo
Koochiching
Mud Bucket
Excess Is Not Enough
Back Trail
You Manager, You Brought Her Here
The Norton Anthology of Rock and Roll
The System's Crashing - LIVE! (16 minutes)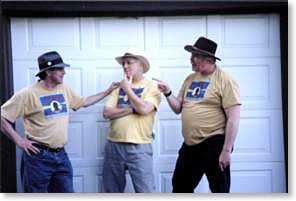 Bent Sunshine after nearly rehearsing, 1991