Mark Time Radio Shows
Mark Time Radio Bundles from ZBS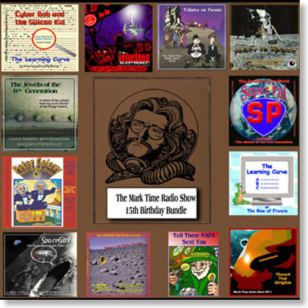 This year marks the 15
th
anniversary of the coveted Mark Time Awards—the only awards given annually to honor the best in science fiction and fantasy audio theater. (Meatball Fulton has a lifetime achievement award from Mark).


Each year Jerry Stearns and Brian Price of
Great Northern Audio Theatre
have celebrated the celebration by writing and producing their own ridiculous sci-fi satires performed before a live audience just preceding the awards ceremonies. These silly shows have always been well received and under distributed.

But right now you can download them ALL from the fine folks at
ZBS
. All highest quality audio at 320 kbps, with PDF covers and liner notes.



- $ 59.42 (
$91 originally)
For the first time ever—the compete package of Mark Time shows in one place for one low price. Space travel, time travel, kids, monsters and inflatable dreams—no subject was left unscathed—though we promise few Tribbles were harmed during the recording of these shows.


Includes:

Velveteen Submission
Peter Galaxy / Tell Them NAPA Sent You
Martian Trombone / High Moon / Wizard Jack
Super Pal / Jewels of the 11th Generation
Cyber Bob / The Learning Curve
Jokes In Space
Villains on Parade
Thwack That Dirigible
Space Girl



- $ 39.42
($65 originally)

David Ossman of the legendary Firesign Theatre and in reality, Mark Time himself, was often on hand to celebrate the celebration. His talented friends and compatriots, Phil Proctor and Melinda Peterson, made wonderful appearances as well. Besides, if Santa Claus lived in outer space he probably would look and sound a little bit like Mark Time.

Space Girl
Cyber Bob / The Learning Curve
Jewels of the 11th Generation / Super Pal
Martian Trombone / High Moon / Wizard Jack
Peter Galaxy / Tell Them NAPA Sent You
Velveteen Submission



- $ 19.42
($30 originally)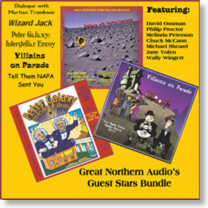 Over the years Mark Time has played host to some wonderful guest stars: Michael Sheard (Admiral Ozzel of Stars Wars), the grand dame of fantasy—Jane Yolen, the Voice of the Tonight Show—Wally Wingert, and the amazing voice talent Chuck McCann (CooCoo for Coco Puffs).

Peter Galaxy / NAPA (David Ossman & Michael Sheard)
Martian Trombone / Wizard Jack (David Ossman, Phil Proctor, Jane Yolen, Melinda Peterson)
Villains on Parade (Chuck McCann & Wally Wingert)


---