Live Radio in Minneapolis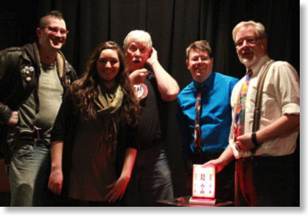 January 18, 2013, was the performance of
Big Fun Radio Funtime!
, a live radio comedy production at the Bryant Lake Bowl in Minneapolis, MN. Produced by Tim Wick for
Fearless Comedy Productions
, with local writers and actors.

The show included four sketches, with music and patter in between. The photo on the right is of the writers: Matt Allex and Emily Cook, Jerry Stearns (writing with Brian Price), Tim Wick and David Walbridge.

Sketches in the show were:

The Sword in the Couch
(Price and Stearns)

Bro By Numbers
(Allex and Cook)

Captain Handsome of the Federated Space Rangers
(Walbridge)

Rick Dickerson, Cliché Detective
(Wick)

The entire show is available for listening or download online at BandCamp.

http://fearlesscomedyproductions.bandcamp.com/album/big-fun-radio-funtime-live-on-1-18-13
This is the first of a series by Fearless Comedy. The next Big Fun Radio Funtime! show is March 8, 2013 at the
Bryant Lake Bowl
on Lake Street in Minneapolis.
---