Peter Bergman
, co-founder of the iconic audio comedy team, the
Firesign Theatre
, passed away this morning, Friday, March 9, 2012, from complications related to leukemia.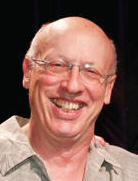 He was "P". the PoV character of the Firesign's
How Can You Be In Two Places At Once When You're Not Anywhere At All
, the one who bought the marvelous car from Ralph Spoilsport Motors. He was Lieutenant Bradshaw, who was always on about flat-foot Nick Danger. He was Mudhead, the broken-voiced teenage friend to David Ossman's Porgie Tirebiter. And he was Mayor P'nissnose, of Billville, the town that Nature Forgot to Hate. He made me laugh.

Besides all that, Peter was once a CBS News anchor. He was the guy who coined the term "Love In" back in 1967, the Summer of Love. That's when he was the Wizard of
Radio Free Oz
, that cultural rant radio program on KPFK in Los Angeles where the Firesign Theatre began in 1966, and again as the current audio blog of
www.radiofreeoz.com
. He made me think.

I was really looking forward to getting to meet him and work with him this summer. We'd invited him to our science fiction convention to perform and to celebrate the Fifteenth Anniversary of the
Mark Time Awards for Science Fiction Audio
. That's another Firesign reference. The Awards are named after
Mark Time
, a short and hilarious skit in which he is the demagogue Prince Arcturus. David Ossman once said Peter was more genuine on mic than in real life. I am sad I won't be able to meet him, and tell him how much he meant to me and to my sense of humor. I will always hear his voice as Clark Cable on Proctor and Bergman's
TV Or Not TV
album. He'll always make me laugh. Thanks so very much for all you've said, Pete.

Here's one or our favorites of Pete's, from Dear Friends,
Duke of Madness Motors
.


---