Decoder Ring Theatre's Summer Showcase Carries On Peter Galaxy
Decoder Ring Theatre is proud to present
Mark Time Show Time
, a Showcase series celebrating scripts originally written for live performance by
Great Northern Audio
, in conjunction with the awards ceremony of the Mark Time and Ogle Awards.


We are so pleased to be able to hear what some other people do with the story we wrote for a Mark Time Radio Show. Originally it featured David Ossman of the Firesign Theatre, and Michael Sheard, a popular Brit who appeared in Star Wars and Dr. Who.

They have planned six of these Mark Time scripts, so be sure to head over to
Decoder Ring Theatre
every couple of weeks this Spring for a reprise of silly sci-fi. You can find more about each one on its own page
on this site
.


---
Turner Ashbey, Chapter 16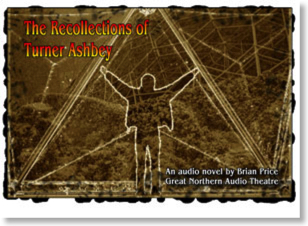 Writer, historian and former ambassador to the Great State of Colorado, Turner Ashbey looks back at his life including his on and off again relationship with resistance leader, Laze Fitzgerald.


Chapter 16
A song about Fair Liza, The Saint of Reunification. Liza waited quietly by the side of the road and would not let them take that orphan boy. "Fair Liza lay in wait and she smote them." But what does that mean? Fair Liza and the song seem to have a basis in the recent history of the Sundered States.

The Recollections of Turner Ashbey, Chapter 16
(15 minutes, 10.4 MB)
---