Mar/27/15 21:00
Great Northern audio productions
being broadcast and podcast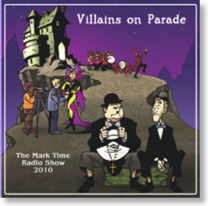 Starting
Friday, March 27
, four Mark Time Radio Shows will be broadcast on the
Midnight Audio Theatre
, which comes out of WCBE in Columbus, OH. The show is on at Midnight, so it's actually Saturday mornings, but there we are. They will be playing four of our works over the next four weeks. You can go to the source and listen to the stream at
http://wcbe.org/
, or you can pick it up on their podcast anytime at
http://midnightaudiotheatre.com
. We thank them for supporting the audio medium, and for playing our stuff for you.
Here's the schedule of what's playing when:

03/27 -
Villains on Parade,
featuring Wally Wingert and Chuck McCann
04/03 -
Thwack that Dirigible
, featuring Wally Wingert and Gordon Smuder
04/10 -
The Learning Curve,
featuring David Ossman and Wally Wingert
04/17 -
Space Girl,
featuring David Ossman, Phil Proctor, and Melinda Peterson as SpaceGirl.
AND our recent production,
Cyber Bob and the Digital Nymph
, is the current offering on the great
Radio Drama Revival
podcast, Episode 408. This is the Last Mark Time Radio Show, with David Ossman returning to the raucous stage for the farewell performance of this long-running series. (
See the history of the series.
) Thanks to Fred Greenhalgh for throwing one of ours up against the wall of sound.


And thanks for David Farquhar for making several more of our works available for listening at the
Moonlight Audio Theatre
podcast as well. Some of them are free to hear, and some others are in their Premium Episodes list. Either way it's another way to listen to the Great Northern Audio Theatre brand of new and different audio. Our
Three Wizard Tales
collection is one of their Top 25 Free Shows. So, have at it.


Interview

Jerry was interviewed recently by Stuart Flynn for his science fiction blog: SCY-FY: THE BLOG OF S. C. FLYNN. Take a look at
http://wp.me/p4T72p-fc
. See what he has to say about podcasting and his radio show,
Sound Affects
, and about the work that Great Northern Audio has been doing for 20 years.


HEAR Now Festival

We at Great Northern Audio are planning to be at the National Audio Theatre Festivals
HEAR Now Festival
the weekend of June 11-14. If you're interested in audio theater, audiobooks or other kinds of audio storytelling, this is the place to come. There will be lots to listen to, lots of interesting people to talk with about audio fiction, and presentation of the new
Mark Time Awards
for audio drama. Find out more at
http://www.hearnowfestival.org
.


---