Jun/02/18 13:00
World Premiere Performance by David Ossman
June 6 in Kansas City, MO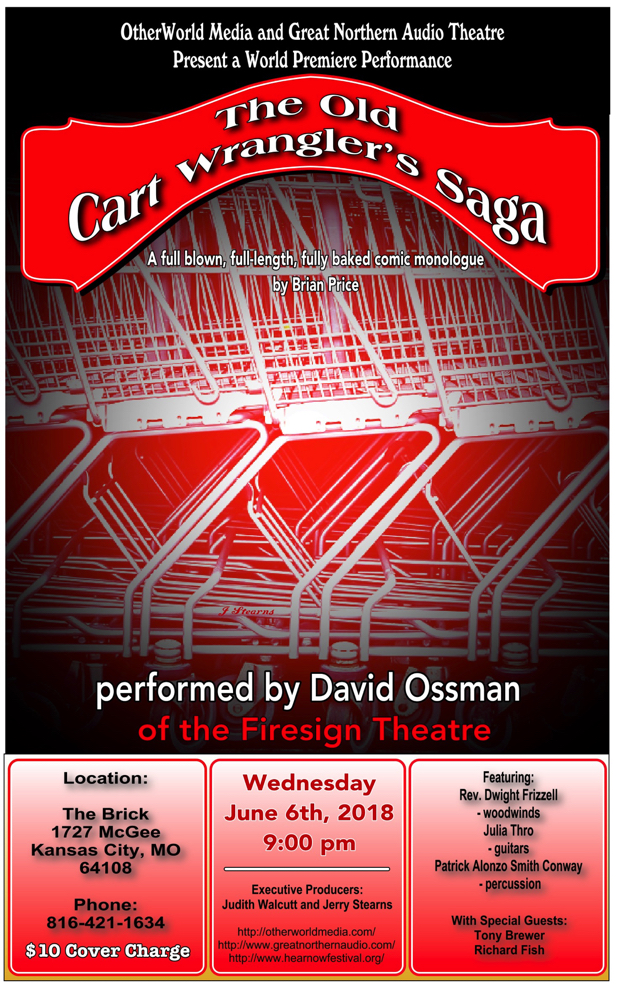 ---
---
May/23/18 19:45
The 22nd Annual Mark Time Awards

June 7th, in Kansas City, MO, the
HEAR Now Festival
will host the presentation of the Mark Time Awards for 2018. The ceremony will include a performance of Great Northern Audio Theatre's
Dialogue with Martian Trombone
, starring
David Ossman
and
Philip Proctor
, of the famed Firesign Theatre.
All this will take place at 9:00 PM in the Grand Ballroom of the Holiday Inn Country Club Plaza Hotel.


The Mark Time Awards
are well known in the field of contemporary Audio Theater for their recognition of the science fiction, fantasy and horror genres. In cooperation with the HEAR Now Festival of Audio Fiction they have expanded to include detective stories, and this year added a comedy category. They are named after the Mark Time character created by the American comedy troupe, the
Firesign Theatre
, and have been actively supporting audio drama since 1997. Mark Time Awards are given internationally, and have been won by producers from Ireland, Canada, South Africa, New Zealand, Belgium and all across the United States.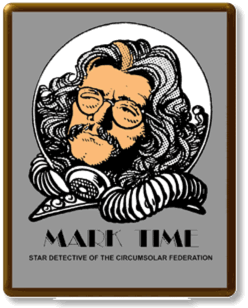 The presentation and performance includes a radio play that answers the question of what became of the Ramon Raquello Orchestra, the ones that played at the Meridian Room on Orson Welles' infamous
War of the Worlds
broadcast back in 1938. We've all wondered about that, and now the whole story can be told. The play was written by Brian Price and Jerry Stearns of the
Great Northern Audio Theatre
, both Mark Time Grand Master Award winners themselves, and besides Ossman and Proctor features an all-star cast of Melinda Peterson, Richard Fish, Donna Postel and Orson Ossman. It was first performed back in 2004. This production is in conjunction with OtherWorld Media and HEAR Now.

The
HEAR Now Festival
will run June 7-10, 2018 in Kansas City, and includes many other performances and workshops in the fields of audio storytelling, audiobooks, podcasting, childrens literature, and a celebration of Mark Twain. You can hear more from the Firesign Theatre, too.


---
---
Jun/29/17 13:49
HEARNow Festival was a Good Time

Brian Price and Jerry Stearns had a good time at the 2017 HEARNow Festival of Audio Fiction in Kansas City, MO. I thought I'd tell you a bit about what we did, and hope it inspires you to attend sometime. Remember, this is only some of the events that we were connected with; there was a LOT more going on than this. You can check their
online schedule
to see more.

First of all, this was my first chance to actually see the
Audie Award
we won for Best Audio Drama from the Audio Publishers' Association, for
In The Embers
. Brian says the New York TSA took him out of line at the airport because of this oddly shaped and unscanable item in his pack. They opened it up, said "Congratulations", and sent him on his way.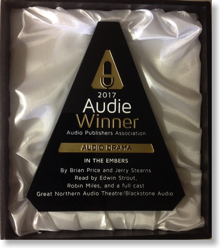 Thursday

In the evening we did a
Best of Audio Fiction
presentation, joined by Robin Miles, about our award-winning piece,
In The Embers
. We got to talk about how it came to be, and about some of the technology that enabled us to put it all together even though few of us live in the same section of the country. We shared the hour with Russell McGee, who is a sound designer for
Big Finish
's
Dr. Who
audio series. He came with a computer presentation, way better prepared than we were. We were able to spend some time with Russell and his wife during the Festival, too.


Friday

Brian went to help out with the
Workshop 101
team, teaching about the writing and production of audio theater. Follow the link to hear some of the short works that they completed during the Festival.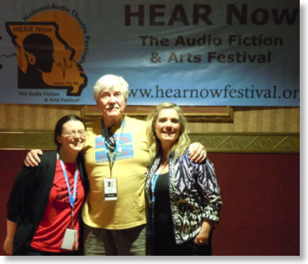 Jerry attended a
playback session
at a local theater - where it is great to be able to hear productions on a BIG excellent sound system and in a room designed for listening. I chose to attend a session presented by two other people who put audio theater actually on the radio. Hosting were Catherine Rinella of
Midnight Audio Theater
at WCBE in Columbus, Ohio, and Christy Duntan of KZMU community radio in Moab, Utah, who brought us
Downtown Abbey
. Both shows really fun to hear.

Next Brian and I both hosted a session in the theater called
Simon Jones, A Retrospective
. He is the original and genuine Arthur Dent of the
Hitchhiker's Guide to the Galaxy
, accept no substitutes. Technical difficulties threatened to make it a difficult session, but Simon's good humor made it into a hilarious hour of stories from his illustrious career on stage and in radio, TV, films, and audiobooks.
Dirk Maggs sent in a video from the UK nearly in praise of Simon, as well. This session won 2nd prize as an audience favorite event for the festival. (First Prize went to
KC Wayland
who presented a chapter from his ongoing podcast series,
We're Alive
, earlier that day.)

Friday evening we were able to slip away for dinner at Arthur Bryant's barbecue restaurant with Simon Jones and his wife, Nancy, Russell McGee and his wife, Elizabeth, and Rich Fish, Tony Brewer and Butch D'Ambrosio.


Saturday

In the afternoon Brian and I were pleased to moderate a session for the
Podcast Palooza
presenters attending the Festival. This has been an important event for us because it gets all these producers from around the country in the same place to talk and listen to each other about what they are doing, and ways they might be able to do it better. It was well attended, and everybody had something to say, and an attentive audience.


Sunday

This morning is the
closing brunch and awards event
for the Festival. One of the things that happened here was the presentation of the annual
Mark Time Awards
. Organizers David Ossman and Judith Walcutt called in via Skype to announce the winners, who were chosen this year from Firesign Theatre's biggest supporters over the years. Brian and I were asked to read the acceptance speeches from the winners, but Brian had a better idea, and we were able to get Simon Jones to read them – which was WAY better than having us do it. David commented that he'd like Simon to read all their credits in the future.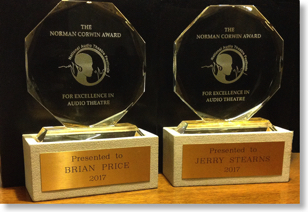 And the final Big Deal at this ceremony was the presentation of the
Norman Corwin Award
. Brian and I are greatly honored to have received this award, and especially in conjunction with the Corwin Legacy Award given to
Stan Freberg
, one of our heroes of audio comedy.


Thank you

We'd like to thank Sue Zizza for being a gracious host to the Festival and to us. Thanks also to David Shinn for technical wizardry at a variety of incompatible venues. And to the NATF committee who somehow thought we were deserving of an award for sticking with something we loved for many years, and having opinions about it.


---
---