With some of the Firesign Theatre at Convergence
Jerry Stearns, Phil Proctor, Melinda Peterson, David Ossman, Brian Price


Over the 4th of July weekend David Ossman and Philip Proctor, of the fabulous
Firesign Theatre
, attended
Convergence
, the science fiction convention, at our invitation. They came to help celebrate the 15th Anniversary of the
Mark Time Awards
, along with several of the Award winners. David's wife, Judith Walcutt, founder of Otherworld Media, was a Guest of Honor of the convention, as well.

We could not pass up the opportunity to invite them both, along with Phil's wife, Melinda Peterson, to take parts in the Mark Time Radio Show. With a cast like that, and the regulars we always ask because they are so damn good, we couldn't lose. Well, we could, but believe me, we didn't. And neither did the audience.
SpaceGirl: Downloading the Legacy
was terrific fun, and you'll get a chance to hear it shortly in this space.

But, wait, there's more. There were several panels that included David, or Phil, or Melinda, or Judith, or some combination of them. On one, titled
All Things Firesign
, the subject of how the 4 or 5 Crazy Guys worked together came up. It was mentioned that there is an audio piece floating around that demonstrates their process in a
rehearsal of the Hellos and Goodbyes section
at the end of the 1998 album,
Give Me Immortality Or Give Me Death
. They have given us permission to post that piece here. It's 17 minutes long, and 20 MB.

If you'd like to hear more of Ossman at the Twin Cities conventions, check the left-hand column for a link to
Coming Soon To A Galaxy Near You
,
part of a program on the film history of George Tirebiter, performed at Minicon 1996. And give us a couple of weeks and we'll post the SpaceGirl show, starring Melinda Peterson as SpaceGirl, and Phil Proctor as Dr. Creep.

---
TURNER ASHBEY, Chapter 2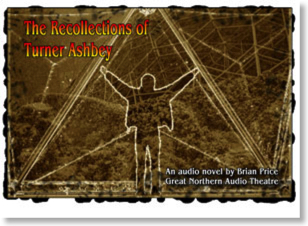 The year is 2096 and the 82 year-old Turner Ashbey has seen a lot in the turbulent 21st century: The rising oceans, the Eastern Migration, the Stay Put, the Tax Indentures and of course, the collapse and dissolution of the United States Federal Government into fifty-three "ephemeral nations" as Ashbey liked to call them. Writer, historian and former ambassador to the Great State of Colorado, Turner Ashbey looks back at his life including his on and off again relationship with resistance leader, Laze Fitzgerald, in this
Audio Novel by Brian Price
.

Brought to you and produced by Great Northern Audio Theatre. A new chapter is planned to be released every two to four weeks.
(10 MB, 13 minutes)


---