Available now from ZBS

Great Northern's newest feature-length audio production,
In The Embers
, is available now from the
ZBS Catalog
. Downloads include the 80-minute production in 320 kbps resolution, and a PDF CD cover image suitable for printing.

In The Embers coming from Blackstone Audio

A new review in
AudioFile Magazine
announces that
In The Embers
will be released by
Blackstone Audio
on their
Downpour
website on
December 8th
. We are very pleased to be published by Blackstone, one of the leading audio publishers with an ear for audio theater.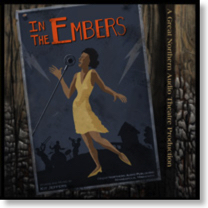 This new release includes three original songs integral to the story and a 70-minute
In The Embers
- The Making Of
documentary created especially for Blackstone in cooperation with Waterlogg Productions. The documentary consists of commentary from the writers and producers, and interviews with the actors, musical composer, and producer Tom Lopez of ZBS.



Great Northern Audio Collection Boxed Set
Blackstone
also carries the entire
Great Northern Audio Collection
in a Boxed Set of 18 stories, including many from the celebrated
Mark Time Radio Shows
. You can get them individually or all together as downloads or on CD or MP3 CD. You can even rent them if you just want to see what this silliness is all about.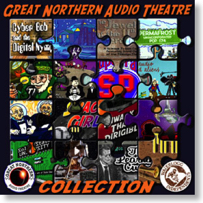 These are whimsical and original tales of science fiction and fantasy, featuring the voices of Firesign Theatre members
David Ossman
and P
hil Proctor
, and well known Hollywood actors
Chuck McCann
and
Wally Wingert
along with the superbly comic regular cast. The tales include
Tell Them NAPA Sent You
, about wizards, dwarfs and auto parts;
Dialogue With Martian Trombone
, the real story behind the Ramone Raquello Orchestra featured on Orson Welles' War of the Worlds broadcast;
The Jewels of the 11th Generation
, a tale of a 300-year-old starship, kids, space pirates, and squeaky toys; and much more audio fun.


---
Turner Ashbey, Chapter 28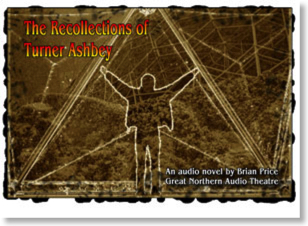 Writer, historian and former ambassador to the Great State of Colorado, Turner Ashbey looks back at his life including his on and off again relationship with resistance leader, Laze Fitzgerald.


Chapter 28
The world is changing. The Age of Indenture is collapsing. And Turner and Laze Fitzgerald are trapped in the crossroads town of Trinidad, Colorado.
The Recollections of Turner Ashbey, Chapter 28
(15 minutes, 11 MB)


See all the Turner Ashbey Chapters
here
.


---