Available now from ZBS

Great Northern's newest feature-length audio production,
In The Embers
, is available now from the
ZBS Catalog
. Downloads include the 80-minute production in 320 kbps resolution, and a PDF CD cover image suitable for printing.

In The Embers coming from Blackstone Audio

A new review in
AudioFile Magazine
announces that
In The Embers
will be released by
Blackstone Audio
on their
Downpour
website on
December 8th
. We are very pleased to be published by Blackstone, one of the leading audio publishers with an ear for audio theater.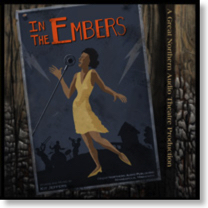 This new release includes three original songs integral to the story and a 70-minute
In The Embers
- The Making Of
documentary created especially for Blackstone in cooperation with Waterlogg Productions. The documentary consists of commentary from the writers and producers, and interviews with the actors, musical composer, and producer Tom Lopez of ZBS.



Great Northern Audio Collection Boxed Set
Blackstone
also carries the entire
Great Northern Audio Collection
in a Boxed Set of 18 stories, including many from the celebrated
Mark Time Radio Shows
. You can get them individually or all together as downloads or on CD or MP3 CD. You can even rent them if you just want to see what this silliness is all about.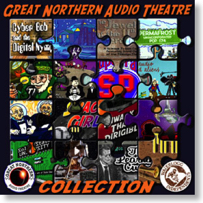 These are whimsical and original tales of science fiction and fantasy, featuring the voices of Firesign Theatre members
David Ossman
and P
hil Proctor
, and well known Hollywood actors
Chuck McCann
and
Wally Wingert
along with the superbly comic regular cast. The tales include
Tell Them NAPA Sent You
, about wizards, dwarfs and auto parts;
Dialogue With Martian Trombone
, the real story behind the Ramone Raquello Orchestra featured on Orson Welles' War of the Worlds broadcast;
The Jewels of the 11th Generation
, a tale of a 300-year-old starship, kids, space pirates, and squeaky toys; and much more audio fun.


---
Yes, the Mark Time Radio Shows are all
ON SALE at ZBS
. So if you didn't get them before, NOW is your chance! Highest quality audio download available anywhere - all at 320 kbps.

Our digital warehouse space is limited and all Mark Time Bundles downloads have been slashed and must go:

Did we say?
MARK TIME FIRESIGN THEATRE GUEST BUNDLE
- was $39.42, that´s crazy, now
$34.95
.

The
MARK TIME GUEST STAR BUNDLE
- was $19.42 now a ridiculously low
$14.95.


and The
COMPLETE MARK TIME RADIO SHOW COMPLETE BUNDLE
- (was $59.42) -- 15 years of science fiction satire and lunacy performed on a live stage in front of a live audience for just
$52.95.
That includes 14 shows plus a number of audio shorts.

Here´s what some of Mark Time´s favorite professional guest performers have had to say:


"The collection of CDs you guys have done over the years at the Con embody some of my favorite live performances (and the few opportunities to play in other writers´ work!)"

-- David Ossman (Firesign Theatre)


"The most fun I´ve had in 20 years."

-- Michael Sheard (Dr. Who, The Empire Strikes Back)


"I´m not putting that bucket on my head."

-- Wally Wingert (The Tonight Show)


"That´s it. I don´t want to play the dwarf anymore."

-- Cyber Bob (Cyber Bob and Silicon Kid)


"You can´t have two Scotsmen in the same play. It´s just not done."

-- Phil Proctor (Firesign Theatre, Rugrats)


"It´s ok, Philip. I´m sure they´ll do better the next time."

-- Melinda Peterson (Cagney and Lacey, MacGiver, JAG)


"Look, really, the dinosaurs aren´t mine."

-- George Leroy Tirebiter (High School Madness)


Yeah, we do make them available for sale, but all of these have been on many peoples' podcasts for years, so it's not like they aren't out there to find. This is just the high-quality audio files with a CD cover PDF file included.
---

While we're on the subject of ZBS, we're broadcasting their latest Jack Flanders story,
Dreams of Tiffany Blue
, on
Sound Affects: A Radio Playground
on KFAI community radio. It's January 5 and 12, 2014. If you missed one, they're kept in the
archive on the KFAI website
for two weeks.

AND, a wonderful ZBS series called
Saratoga Springs
is being made available for listening by the online news-site,
Saratoga Wire
, along with a nice writeup about Tom Lopez, the talent behind everything ZBS.

---

And finally, all the
Mark Time Radio Show CD
s are available at
Uncle Hugo's Science Fiction Bookstore
, in Minneapolis, including the latest ones -
Jokes in Space
with
VIllains on Parade
, and
Thwack That Dirigible
with
SpaceGirl,
which aren't available on CD anywhere else. CDs specially made for Uncle's.

---