The Old Cart Wrangler Audie Nomination
February 4 brought us the news that
The Old Cart Wrangler's Saga
is a finalist for the
2019 Audie Awards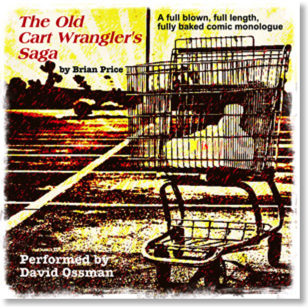 from the Audio Publishers Association, in the
Original Works
Category. Well, it certainly fits in that slot: It's about as original as they come. Written for audio from the beginning, and the performance by David Ossman was the World Premier of the piece.
Great Northern Audio
and
Otherworld Media
were pleased to present it back in June at
The Brick
, in Kansas City, MO, with eclectic jazz behind the Old Cart Wrangler himself. You know that guy. He's the one who's always out there chasing down the stray carts, the ones that are out on the edge of the parking lot looking longingly at the bigger world beyond.
---
Tom Lopez, at ZBS, says —
Takes a lot to impress me, but you did it. I can't think of anyone better than David Ossman to perform this piece. … It is really really good. Like perfect. And in front of a live audience. Oh yeah, and Dwight's backing was so nice to hear, very fine indeed. … I have to admit, it's rare I listen to a piece all the way to the end, but you nailed me in the first minute … maybe seconds.
The sublime jazz backing band was Rev. Dwight Frizzell on woodwinds, Julia Thro on guitar, and Patrick Conway on percussion. Subtle sound effects were from Tony Brewer.

(The announcement gala was in early March, and we didn't win.)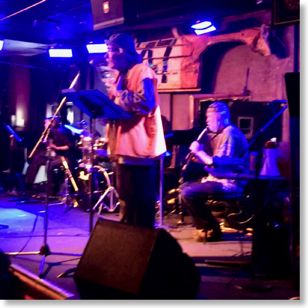 This photo of the performance was taken by Phil Proctor, also of the Firesign Theatre. The disc or download is available from
Blackstone Audio
's
Downpour
site. It includes a half-hour conversation between author Brian Price and David Ossman, talking about the work, the performance, and the Cart Wrangler character.


What We Did On Our Summer Vacation

I mean, besides going to The Brick while in Kansas City, we attended the
HEAR Now Festival
of Audio Fiction. There we had the delight to present the annual
Mark Time Awards
, and as the opening to that we staged one of our own audio plays,
Dialogue With Martian Trombone
. The all-star cast included David Ossman, Phil Proctor, Melinda Peterson, Orson Ossman, Richard Fish, and Donna Postel. You can hear that
here
.


Convergence 20

In July I went to the 20th Anniversary Convergence science fiction convention in Minneapolis. There I was able to help out with the
Big Fun Radio Funtime
performance by
Fearless Comedy Productions
. They were kind enough to invite me to do sound effects for the show, which I was happy to do. They also let us write a sketch for them, so we offered up
The Awk Awk Incident
, about the dangers of telling the Bird Watchers you've seen something rare around your own place. Our thanks to Tim Wick, artistic director at Fearless Comedy, for the opportunity.

---
---