Joe Bev to broadcast Great Northern Audio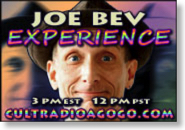 The estimable Joe Bevilacqua will be broadcasting several works of the Great Northern Audio Theatre on his online radio show at
Cult Radio A-Go-Go
. These will be about once a month on Saturdays, beginning this Saturday, April 20th.


What if a citadel of higher education was completely automated? Great Northern's
Solid State University
will be featured this Saturday, April 20, 2013 on
The Joe Bev Experience
. (
http://www.joebev.com/
) That's at 3 PM EDT and 12 Noon PDT.
Written and produced long before computers started showing up in classrooms, just about everything in this academic send-up ended up coming true. Featuring Dan Coffey (Dr. Science himself), Dave Moore and Jerry Stearns. Winner of the
Golden Reel Award for Best Radio Drama
for 1993 from the National Federation of Community Broadcasters.
Joseph Bevilacqua's website is entertaining, informative and goofy–a wonderful mix and just the kind of place to hear SOLID STATE UNIVERSITY – hope you have time to visit. And listen in for other Great Northern Audio works in the coming months.



---
The Spontoon Islands are in a cartoon world between 1920-40, inhabited by furry animal cartoons and seaplanes. Artists from all over the world contribute art, strips and stories to the shared universe. E. O. Costello contributes radio scripts evocative of the time and place, filled with original characters and sounding like a cross between Old Time Radio and the Sunday Comics.

The Great Northern Audio Theatre is proud to present two of the many scripts available at:
http://spontoon.rootoon.com/SPwRdoCn.html
.

Rosie's Place is LuChow's, the spot where every fur goes for lunch on Meeting Island. "
It's Shot From Guns
" is about Rosie, when she hires dimbulb brothers B'onss and K'nutt to do laundry for the restaurant. B'onss powers the washer with an airplane engine, showing the consequences of stupidity as a way of life. The usual characters show up at Rosie's lunch counter, too.

The Headline Chaser is Michael Mooney, a new reporter for the Spontoon Mirror. In "
If You Can't Stand the Heat
", when his minkess friend tells him about local restaurants losing food right off the loading docks, he knows there's a story there. He's a reporter, he can't help himself. He has to investigate. Featuring Simon Jones (
Hitchhiker's Guide to the Galaxy
) as publisher Charles Foster Crane.


---
Turner Ashbey, Chapter 8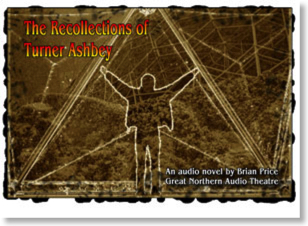 Writer, historian and former ambassador to the Great State of Colorado, Turner Ashbey looks back at his life including his on and off again relationship with resistance leader, Laze Fitzgerald.


Turner and Laze Fitzgerald talk about the recent history of the Republic of Texas and how everyone was afraid of what it meant. They have an afternoon of feeling relaxed and free, and suddenly discover that they aren't as alone up there on the mountain as they had thought they were.


The Recollections of Turner Ashbey, Chapter 8
(13.3 minutes, 9.7 MB)
---