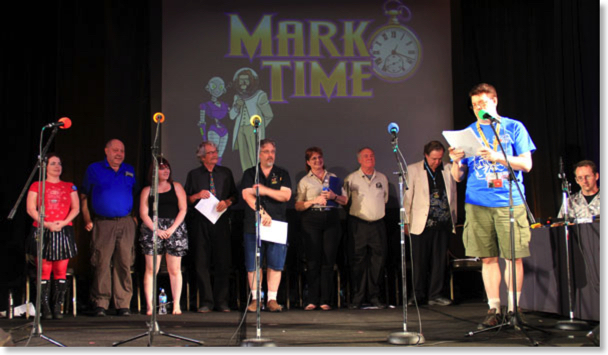 SpaceGirl: Downloading the Legacy

The
Mark Time Radio Show
at Convergence 2012 was a huge bit of fun. We had a terrific cast, lots of sound effects, and an enthusiastic audience. We marked the convention theme of "Wonder Women: women in science fiction" with a female heroine played by the fabulous Melinda Peterson. And we celebrated the 15th Anniversary of the Mark Time Awards with two members of the
Firesign Theatre
in the cast; David Ossman and Philip Proctor always add performance excellence to a production.


SpaceGirl

Linda Kim Shelmerdine discovered her powers as a teenager, when she was a turmoil of solar and hormonal flares. Now she occasionally feels her age, and she's tired of the way everyone seems to perceive of superheroes saving the world, always in it for themselves. Meet Dr. Creep, the Super Villain, and Senator Mulder Hack, chair of the joint joint sub-sub-committee, and the magnificent Hungarian Dwarf Parade, who are watching over SuperGirl's personal affairs.


Available now as a download from
ZBS
.
The Cast: (above, left to right)

Wndy Bowlsby
Tim Liebe
Megan Petersen
David Ossman
Gordon Smuder (
Transylvania TV
)
Melinda Peterson
Phil Proctor
Rich Fish
Tim Wick
Tony Brewer (sound effects with Brian Wesley)
___________
Music by Eleanor Price.
Sound by Jerry Stearns and Kris Markman.

Produced by Jerry Stearns and Brian Price.

David Ossman - Mark Time himself

---