Turner Ashbey, Chapter 15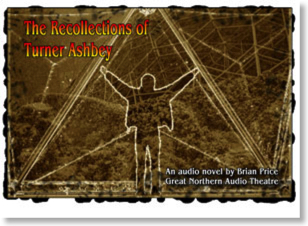 Writer, historian and former ambassador to the Great State of Colorado, Turner Ashbey looks back at his life including his on and off again relationship with resistance leader, Laze Fitzgerald.


Chapter 15
History has changed. Maps have changed. The tides have changed. Turner and his friends enter the Realm of Kentucky and Turner ends up working for the Duke of Lexington's daughter.
The Recollections of Turner Ashbey, Chapter 15
(18.5 minutes, 13.4 MB)
---
Yes, the Mark Time Radio Shows are all
ON SALE at ZBS
. So if you didn't get them before, NOW is your chance! Highest quality audio download available anywhere - all at 320 kbps.

Our digital warehouse space is limited and all Mark Time Bundles downloads have been slashed and must go:

Did we say?
MARK TIME FIRESIGN THEATRE GUEST BUNDLE
- was $39.42, that´s crazy, now
$34.95
.

The
MARK TIME GUEST STAR BUNDLE
- was $19.42 now a ridiculously low
$14.95.


and The
COMPLETE MARK TIME RADIO SHOW COMPLETE BUNDLE
- (was $59.42) -- 15 years of science fiction satire and lunacy performed on a live stage in front of a live audience for just
$52.95.
That includes 14 shows plus a number of audio shorts.

Here´s what some of Mark Time´s favorite professional guest performers have had to say:


"The collection of CDs you guys have done over the years at the Con embody some of my favorite live performances (and the few opportunities to play in other writers´ work!)"

-- David Ossman (Firesign Theatre)


"The most fun I´ve had in 20 years."

-- Michael Sheard (Dr. Who, The Empire Strikes Back)


"I´m not putting that bucket on my head."

-- Wally Wingert (The Tonight Show)


"That´s it. I don´t want to play the dwarf anymore."

-- Cyber Bob (Cyber Bob and Silicon Kid)


"You can´t have two Scotsmen in the same play. It´s just not done."

-- Phil Proctor (Firesign Theatre, Rugrats)


"It´s ok, Philip. I´m sure they´ll do better the next time."

-- Melinda Peterson (Cagney and Lacey, MacGiver, JAG)


"Look, really, the dinosaurs aren´t mine."

-- George Leroy Tirebiter (High School Madness)


Yeah, we do make them available for sale, but all of these have been on many peoples' podcasts for years, so it's not like they aren't out there to find. This is just the high-quality audio files with a CD cover PDF file included.
---

While we're on the subject of ZBS, we're broadcasting their latest Jack Flanders story,
Dreams of Tiffany Blue
, on
Sound Affects: A Radio Playground
on KFAI community radio. It's January 5 and 12, 2014. If you missed one, they're kept in the
archive on the KFAI website
for two weeks.

AND, a wonderful ZBS series called
Saratoga Springs
is being made available for listening by the online news-site,
Saratoga Wire
, along with a nice writeup about Tom Lopez, the talent behind everything ZBS.

---

And finally, all the
Mark Time Radio Show CD
s are available at
Uncle Hugo's Science Fiction Bookstore
, in Minneapolis, including the latest ones -
Jokes in Space
with
VIllains on Parade
, and
Thwack That Dirigible
with
SpaceGirl,
which aren't available on CD anywhere else. CDs specially made for Uncle's.

---