Yes, it's finally that time of year again, to announce the winners of the
Mark Time Awards for Science Fiction Audio Theater
, and the
Ogle Awards for Fantasy/Horror Audio Theater
. After seventeen years, still the ONLY awards given solely for audio theater, anywhere in the world. These are the winners for the 2013 Production Year.


Mark Time Award
GOLD
The Truth: Biological Clock

The Truth
Written by Ira Gamerman
Produced by Jonathan Mitchell
New York, NY

www.thetruthpodcast.com
SILVER
Alone in the Night

Electric Vicuna Productions
Written & Produced by Jack Ward

Michael L. Stokes, Production Engineer

Halifax, Nova Scotia

www.evicuna.com
Ogle Award
GOLD
The Legend of Springheel'd Jack

Wireless Theatre Company
Written by Gareth Parker, Robert Valentine
Producers, Robert Valentine, Gareth Parker, Mariele Runacre-Temple
London, England

www.wirelesstheatrecompany.co.uk
SILVER
The Perhapanauts: Monsters Among Us

AudioComics Company
Written by Todd DeZago, w/Elaine Lee
Produced by William Dufris, Lance Roger Axt, Elaine Lee

Bellingham, WA

audiocomicscompany.com

There's a lot of audio theater out there on the web. I tell people there's probably more audio theater being made now than there was during the heyday, the Golden Age of Radio. Maybe that's true. Maybe it isn't. It's certainly true that there's a bigger variety of works available now. Science fiction and Fantasy are a very large percentage of what's new in audio drama, partly because it lends itself so well to the medium.

We would like to thank the
Geek Partnership Society
(GPS) for their generous sponsorship for a dozen years or so, and thank
CONvergence
for their support in giving us a stage to present the awards and a chance to spread the word that there's a lot of good audio stories out there. Please give it a listen.


The Mark Time Radio Show
Great Northern Audio
has presented the Mark Time Radio Show each year of the Mark Time Awards - though they are related by name, they are really separate events. We have another coming for CONvergence this year, as well. Keep an ear out for
Cyber Bob and the Digital Nymph
, coming this summer.

Also this summer,
Decoder Ring Theatre
has taken six of our Mark Time Shows and reproduced them in their own grand manner for the Summer Showcase series of
Mark Time Show Time
. Check those out, too. They are really fun, if I do say so myself.

However, after this year we will be giving up our place on the schedule of CONvergence. This will be our last dangerous Mark Time Radio Show. It is time for us to move into new ventures and other efforts dear to our hearts. We thank all of you for listening to these shows. We will have new and more ambitious works to come, so keep checking back here for those.

We are also hanging up our stewardship of the beloved Mark Time Awards. It has been a great honor to keep them running since their inception. We have given the reins back to the owners of the character of Mark Time. We don't know what will happen to them, but we certainly hope they continue - I would love to keep being a judge. I have loved listening to the hundreds of entries all these years. I've learned a lot. And if we have encouraged some of you to try to make your audio theater better, then we have succeeded in what we set out to do. We encourage you to keep making great SF audio, and to keep sending it to us here at Great Northern. Jerry still has a radio show to broadcast them on (
Sound Affects: A Radio Playground on KFAI
), and he's always looking for new material. We'd love to hear what you think about all this. Comments can be sent through
Facebook
and
Twitter
.


---
Mark Time At Convergence 2013
The Mark Time Awards were presented at Convergence 2013 on July the Fourth. See an entry below for a list of the winners. And many thanks to the
Geek Partnership Society
for their continuing support of the Mark Time Awards and other events. But that wasn't the only remarkable thing that happened to audio theater at Convergence.

Attending the convention were several of the current Mark Time and Ogle Awards winners, including Jonathan Mitchell of The Truth, Jeffrey Gardner and Clayton Faits of Our Fair City, and Domien de Groot and Eline Hoskens of Audio-Epics in Belgium. And it gets better. Also around for the fun were several past Awards winners, such as Fred Greenhalgh of FinalRune, Scott Hickey of The Grist Mill, Matthew Beaudreau of Aural Stage, Jeffrey Adams of Icebox Radio, and Cayenne Chris Conroy of the Teknikal Diffikulties podcast. Oh, and Brian Price and Jerry Stearns of Great Northern Audio were there, as usual, to start it all off with the Mark Time Radio Show.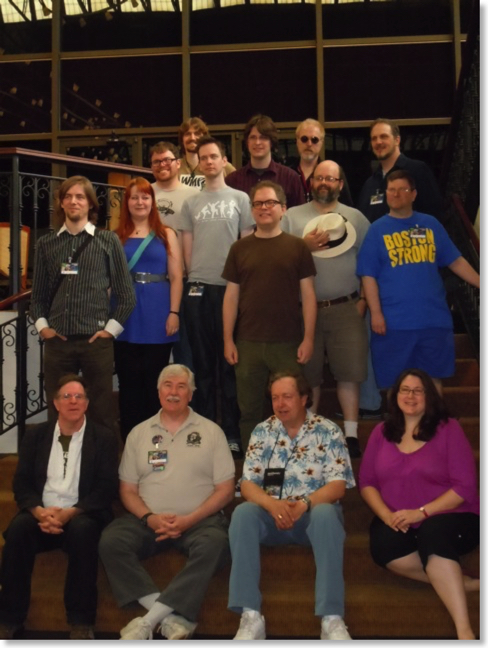 Sitting:
Brian Price, Jerry Stearns, Richard Fish, Kris Markman.

Front row standing:
Domien De Groot, Jonathan Mitchell.

Second row:
Eline Hoskens, Peter van Riet, Jeffrey Adams, Scott Hickey.

Third Row:
Jeffrey Gardner, Clayton Faits.

Back Row:
Fred Greenhalgh, Cayenne Chris Conroy, Matthew Beaudreau.
Room 404

Since there are so many of these audio type people attending Convergence lately, Fred, Matthew and Jeff Adams decided it was a good idea to hold a party… for the whole weekend. So they initiated the
Mark Time Broadcast Central
party room on the fourth floor. That was the official title, anyway. But throughout the weekend we all came to call it just
Room 404
. It seemed such an appropriate number.

Up in 404 they set up a makeshift recording studio, with microphones, sound deadening backdrops, sound effects inputs and recording devices. And they invited anyone dropping by to take the opportunity to see just how much fun it is to record your own audio drama. They handed everybody a script, assigned parts, put on the headphones, and gave them their cue. If you'd like to hear some of the results, Fred uploaded them to SoundCloud, and you can give a listen at:
https://soundcloud.com/marktimebroadcast
.

Besides the above mentioned audio people hanging around 404 you could find Monique Beaudreau, Matthew's wife (who designed the poster identifying the room as Broadcast Central), Dave Irwin, the sound effects artist for Icebox Radio, Peter van Riet, the composer for those marvelous Audio-Epics productions, Dr. Kris Markman, who often sits in with Great Northern to help present the Mark Time Radio Show, Chase Peterson, who is an inestimable MT Show production assistant, and Brian's daughter, Eleanor Price, who is Great Northern's most valuable critic, and has composed and performed the music for several Mark Time Radio Shows. It gets to be quite a gathering.

Fred posted a few photos from Convergence that you might find inspiring.

http://finalrune.com/gallery/convergence-cvg-2013
Audio networking

And that's the point. Convergence has become a place where audio theater producers and participants can meet, have fun, and make contacts that wouldn't happen otherwise. More than one collaborative production has come out of meetings at Convergence over the past few years. And more were talking about it this year.


The Mark Time Radio Show

As has been mentioned, we present the Mark Time Radio Show just before the Opening Ceremonies at Convergence. It's an original science fiction / fantasy comedy radio show from the Great Northern Audio Theatre. This one is loosely related to the convention's theme of British Invasion, and is titled
The Sword in the Couch
. (36 minutes) Picture a Victorian mansion as you would find on Summit Avenue in St. Paul. The lights are coming on in the third floor apartment, the one with the turret on the southwest corner. Urban fantasy in a TV sitcom.


War of the Worlds contest

Convergence Programming Head Craig Finseth came up with the idea to celebrate this year's 75th Anniversary of the Orson Welles' broadcast of the
War of the Worlds
by holding a contest and invited people to make a tribute show. With a maximum length of 15 minutes, and only a few other criteria, they wanted story options to be as open as possible. You can hear all the entries on the contest website at:
http://waroftheworlds75.com/submission/
. Look under Matt's Sat Feed to hear them all.


A Midsummer Night's Dream

All in all I'd say it was a very successful convention for audio theater. Many panels on audio subjects such as productions styles, voice acting, podcasting, and writing for audio. How does that sound to you? Registration for
Convergence 2014 - A Midsummer Night's Dream
- is still at its lowest cost. See more at
http://www.convergence-con.org/
. Who knows who might be there.


---
The Mark Time Awards - 2011

The Mark Time Awards are given each year for the Best Science Fiction Audio Theater production, and the Ogle Awards are given for the Best Fantasy or Horror Audio Theater production. These are the 15th Annual Awards, for the 2011 Production Year.
Mark Time Awards
GOLD
Brad Lansky and the 4D-Verse

Protophonic
Written by J. D. Venne
Producer, Dieter Zimmermann

www.protophonic.net
SILVER
My Other Self

Stagestruck Audio Theatre
Written & Produced by Bret Jones
&

Our Fair City, Season 2

HartLife NFP
Written by Clayton Faits & others

www.OurFairCity.com
EXCELLENCE IN ADAPTATION
The Martian Chronicles

Colonial Radio Theatre on the Air
Story by Ray Bradbury
Dramatized by Jerry Robbins
Producer, Seth Adam Sher

www.colonialradio.com

&

Logan's Run – Last Day

Colonial Radio Theatre on the Air
Written by Jason Brock, William F. Nolan & Paul Salamoff
Producer, Seth Adam Sher

www.colonialradio.com
Ogle Awards
GOLD
Intensive Care

Final Rune & AuralStage Productions
Written by James Comtois
Producers, Fred Greenhalgh, Matthew Boudreau, Samantha Mason

www.finalrune.com/intensive-care/
www.auralstage.com/2011/10/intensive-care/

&

Ghost of a Chance

19 Nocturne Boulevard
Written & produced by Julie Hoverson

www.19nocturneboulevard.com
SILVER
The Strange Case of Springheel'd Jack

Wireless Theatre Company
Written by Gareth Parker, Robert Valentine
Producers, Robert Valentine, Gareth Parker, Mariele Runacre-Temple

www.wirelesstheatrecompany.co.uk

---------------------------------------------------
The
15th Mark Time Awards
will be presented July 5, 2012 at CONvergence, in Bloomington, MN. Representatives from four of the seven production organizations will be present to accept their awards, as will several past winners and four of the five judges.

Mark Time is a character created in 1970 by the
Firesign Theatre
. Phil Proctor and David Ossman of Firesign will also be attending CONvergence to help celebrate the occasion, along with their wives, Melinda Peterson and Judith Walcutt. Judith is a convention Guest of Honor, too. And they'll all be participating in events throughout the convention, including the Mark Time Radio Show, just before the Opening Ceremonies.

We encourage you to look up the winners and give them a listen. You'll find some excellent storytelling.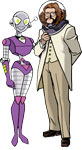 Our thanks to the
Geek Partnership Society
for their sponsorship, and to
Convergence
for their support.


For more information about CONvergence:
www.convergence-con.org
.
For more about the Mark Time Awards:
www.greatnorthernaudio.com/MarkTime/MarkTime.html
.


Jerry Stearns

Coordinator, Mark Time Awards


---