The 22nd Annual Mark Time Awards

June 7th, in Kansas City, MO, the
HEAR Now Festival
will host the presentation of the Mark Time Awards for 2018. The ceremony will include a performance of Great Northern Audio Theatre's
Dialogue with Martian Trombone
, starring
David Ossman
and
Philip Proctor
, of the famed Firesign Theatre.
All this will take place at 9:00 PM in the Grand Ballroom of the Holiday Inn Country Club Plaza Hotel.


The Mark Time Awards
are well known in the field of contemporary Audio Theater for their recognition of the science fiction, fantasy and horror genres. In cooperation with the HEAR Now Festival of Audio Fiction they have expanded to include detective stories, and this year added a comedy category. They are named after the Mark Time character created by the American comedy troupe, the
Firesign Theatre
, and have been actively supporting audio drama since 1997. Mark Time Awards are given internationally, and have been won by producers from Ireland, Canada, South Africa, New Zealand, Belgium and all across the United States.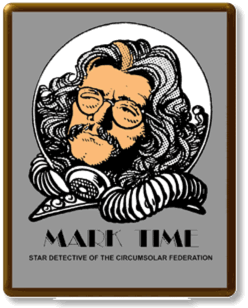 The presentation and performance includes a radio play that answers the question of what became of the Ramon Raquello Orchestra, the ones that played at the Meridian Room on Orson Welles' infamous
War of the Worlds
broadcast back in 1938. We've all wondered about that, and now the whole story can be told. The play was written by Brian Price and Jerry Stearns of the
Great Northern Audio Theatre
, both Mark Time Grand Master Award winners themselves, and besides Ossman and Proctor features an all-star cast of Melinda Peterson, Richard Fish, Donna Postel and Orson Ossman. It was first performed back in 2004. This production is in conjunction with OtherWorld Media and HEAR Now.

The
HEAR Now Festival
will run June 7-10, 2018 in Kansas City, and includes many other performances and workshops in the fields of audio storytelling, audiobooks, podcasting, childrens literature, and a celebration of Mark Twain. You can hear more from the Firesign Theatre, too.


---
---
Featured in "Villains On Parade"
Chuck McCann
was a Guest of Honor at
CONvergence
in 2010, along with voice actor,
Wally Wingert
, who was a friend of his. They both agreed to perform in the Mark Time Radio Show, so we wrote something that would make use of their talents, and fit the convention theme,
Bring On The Bad Guys
. (See #15 on our
Mark Time Radio History
page.)


We were very sad to hear that Mr. McCann passed away on April 8, 2018. We knew of his friendship with Stan Laurel, and that he was one of the few actors who had ever even tried to mimic both Laurel and Hardy. So we went for that in the radio show script. In the performance everybody was hitting on all cylinders, Chuck and Wally were milking every joke for all it was worth. It's fun to watch the pros work.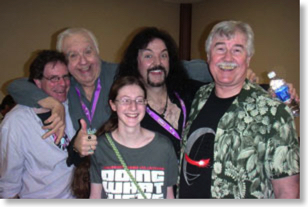 In the photo on the right it's director Brian Price being mauled by Mr. McCann, musician Eleanor Price in front, Wally Wingert, and Jerry Stearns, producer. Listen to all of
Villains On Parade
here. It's about 32 minutes long. Listen especially for the "Lost film commentary" by the orcs from 'Lord of the Rings'. It's all about the villains, you see.


---