Cult Radio A-Go-Go
Joe Bev to broadcast Great Northern Audio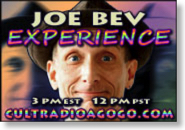 The estimable Joe Bevilacqua will be broadcasting several works of the Great Northern Audio Theatre on his online radio show at
Cult Radio A-Go-Go
. These will be about once a month on Saturdays, beginning this Saturday, April 20th.


What if a citadel of higher education was completely automated? Great Northern's
Solid State University
will be featured this Saturday, April 20, 2013 on
The Joe Bev Experience
. (
http://www.joebev.com/
) That's at 3 PM EDT and 12 Noon PDT.
Written and produced long before computers started showing up in classrooms, just about everything in this academic send-up ended up coming true. Featuring Dan Coffey (Dr. Science himself), Dave Moore and Jerry Stearns. Winner of the
Golden Reel Award for Best Radio Drama
for 1993 from the National Federation of Community Broadcasters.
Joseph Bevilacqua's website is entertaining, informative and goofy–a wonderful mix and just the kind of place to hear SOLID STATE UNIVERSITY – hope you have time to visit. And listen in for other Great Northern Audio works in the coming months.



---