In The Embers wins Audie!
In The Embers takes the Best Audio Drama Audie Award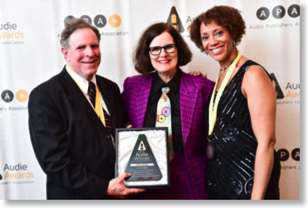 June !st the
Audio Publishers Association
announced the winners in their annual
Audie Awards
in New York City. We are pleased to say that
In The Embers
took the prize in the
Audio Drama
category.


Photo
:
Brian Price, Paula Poundstone, Robin Miles. > >

We'd like to thank the Academy, the Foreign Press Association, our long-suffering families, Tom Lopez, the
excellent
cast, CONVergence, and librarians all across the country for this great honor. We are pleased to be recognized for something that we loved doing.


---
Stearns and Price honored with Norman Corwin Award
The founders and moving spirits behind the Great Northern Audio Theatre have been chosen to receive the
2017 Norman Corwin Award for Excellence in Audio Theatre
. Based in the Midwest, Great Northern Audio Theatre creates its own unique brand of lighthearted, whimsical, and comic original stories that evoke the inventiveness of Firesign Theatre and the sophistication of golden-age radio producer, Norman Corwin. Working with Minnesota's premier Sci-Fi convention, Minicon (later moved to CONvergence), Jerry and Brian created live shows each year to the delight of con-goers, embracing – and extending, and often satirizing – the Science Fiction genre. Their motto says it all: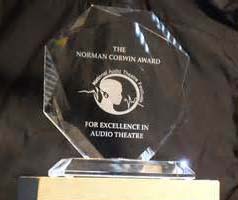 "Ours is not to create the machines of the future.
Ours is to make fun of them when they break down."


They have also created many excellent studio productions, and their work is not always comic. It can be pointed, ingenious, and dramatic, crossing genres and offering new viewpoints on modern life. To give just a few examples,
Tumbleweed Roundup
turned a Western story on its head with a wild cowboys-and-aliens encounter;
Drummer's Dome
explored generational realities and perceptions;
Solid State University
took a look at education as it was, is, and might become (winning the Golden Reel Award from the National Federation of Community Broadcasters);
Dialog With Martian Trombone
ingeniously revealed the real extra-terrestrial invasion that was covered up by Orson Welles' famous broadcast; and
In The Embers
– a truly classic original story of music, memory, and time and was mastered at the legendary ZBS studios – has won an
Audie Award for Best Audio Drama
. .

The Norman Corwin Award for Excellence in Audio Theatre, given annually by The National Audio Theatre Festivals (NATF), is the premier American recognition of lifetime achievement, regardless of media, in the field of audio theatre. It was instituted May 3, 2010, on Norman Corwin's 100th birthday. The first Award was given to Mr. Corwin himself, who is considered the Grand Master of American radio theatre.

---