In The Embers
Independent Feature-length Audio release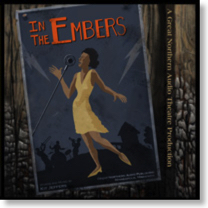 Great Northern Audio is pleased to announce
In The Embers
, our new feature-length audio play which premiered at the
HEAR Now Audio Fiction Festival
in Kansas City last week. Stay tuned as we prepare several avenues for distribution of this exciting audio experience.


Urban archaeologist Digger Morgan has this new technique using a laser to read what's embedded in the charcoal of a burned wooden post. He doesn't expect to find voices. It's two girls who were in the barn when the post was burned, and now he wants to know who they are. He also doesn't expect it when one of those voices starts talking to him from his computer. Kit Jeffers was an up-and-coming jazz singer in the 1920s, and now she's asking him just as many questions as he's asking her. She's smart, she's sassy and saavy, and she wants to go home.
Good science fiction, engaging characters, original music and terrific sound design make this well worth listening to.

A brand new audio play from Great Northern Audio, starring Robin Miles as Kit Jeffers, and Edwin Strout as Digger. With original songs by Brian Price and Mike Wheaton. Mixed at the ZBS studios in upstate New York, with Tom Lopez. CDs are available online currently through
Uncle Hugo's SF Bookstore
and
Dreamhaven Books
.


"The story is excellent, the music is excellent, the audio quality is excellent, and so are the actors.
T
his is a drama that goes in the permanent collection."
See this recent review of
In The Embers
by Scott Danielson of
SFFaudio.com
.

– – –


New Mark Time Awards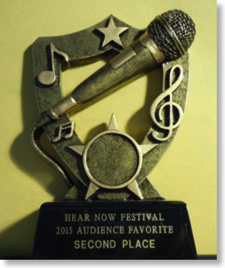 And while we were there at the HEAR Now Festival, we shared a Second Place Audience Favorite Award for the presentation of the new Mark Time Awards. Brian Price and Jerry Stearns played excerpts of this year's winners in the mornng, and Judith Walcutt produced the Mark Time Awards presentation ceremony on Friday evening, with David Ossman doing the honors. See the
Mark Time Awards website
for a complete list. It was probably the kids from the Paseo Academy of Fine and Performing Arts, who wrote and performed their own work that won the audience over, though. So they really should have this award.

It was the first year for the new
Nick Danger Prize
for best detective/suspense audio theater, and we are sad to pass on that the real Nick Danger,
Phil Austin
of the
Firesign Theatre
, passed away on Thursday, June 18, just the day before the prize with his likeness on it was given out. Here's the
LA Times obituary
.


---