The Last Mark Time Radio Show
Cyber Bob and the Digital Nymph
Yes, we're sad to say this was the last dangerous Mark Time Radio Show. We've been doing them for 17 years, and it's time to move on.
●
This time
David Ossman
of the
Firesign Theatre
returns one last time to the live raucous stage to play Cyber Bob, who leaves his position as cart-wrangler at the Mart to lead a digital expedition into the digital glade in search of the beautiful yet elusive Digital Nymph. There's a history between the two, and they are not playing...well, they
are
playing games...and when the Nymph asks, "Do you want to take the leap?" There's only one answer for an old campaigner like Cyber Bob. (
See more...
)

Also on the playlist is
A DAY AT THE LIBRARY
where they answer that electric question, "What would be the first thing you'd make with a 3D printer?" A 1958 Ford Edsel, of course. We also find there are other things we can make to enhance our 3D lives.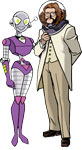 Both pieces recorded live before a very appreciative geeky audience at
Convergence
2014, Bloomington, MN. We give heartfelt thanks to the convention for their support all these years. Especially we thank the Main Stage crew and the ASL interpreters for helping to make the shows possible. We've had a terrific ensemble cast, and some great guest stars over the years. We hope you've had as much fun listening to them.

Available for download at
ZBS
. To be broadcast on
Sound Affects
on December 7, 2014.


---